Hotel Carina in Zermatt is a design hotel a short walk from the town center. It was originally built as a boarding house in 1958 and had been acquired by a group of 3 mountaineering friends in 2017. Its transformation is the totally unexpected result of the storm Eleanor in January of 2018. Its strong winds and heavy snowfall had cut off the access to Zermatt and left many tourists stranded for several days. Among them, a group of 22 architects on a team-building seminar, colleagues of one of the owners, who offered to lodge them. They spent their time planning a complete renovation project ... using whenever possible local materials and carried out by local craftsmen. Two years later, in 2020, the new Hotel Carina was a reality and opened to the public ! The same year, it became Zermatt's only hotel with the double classification "Design & Lifestyle" and "Swiss Lodge" by HotellerieSuisse.
A short dramatic looking pathway leads to the reception area. Stone floors and tiles are from the company opla from the neighbouring village of Täsch.
The reception area is built around a central staircase, allowing the natural light to flow from the windows to both the upper and lower floors.
Even the light fixtures contain lots of interesting details.
The lounge area is a perfect spot to relax and you can even play games inside the floor to ceiling bookcases. The chairs were made in the Swiss factories of Horgenglarus and Röthlisberger.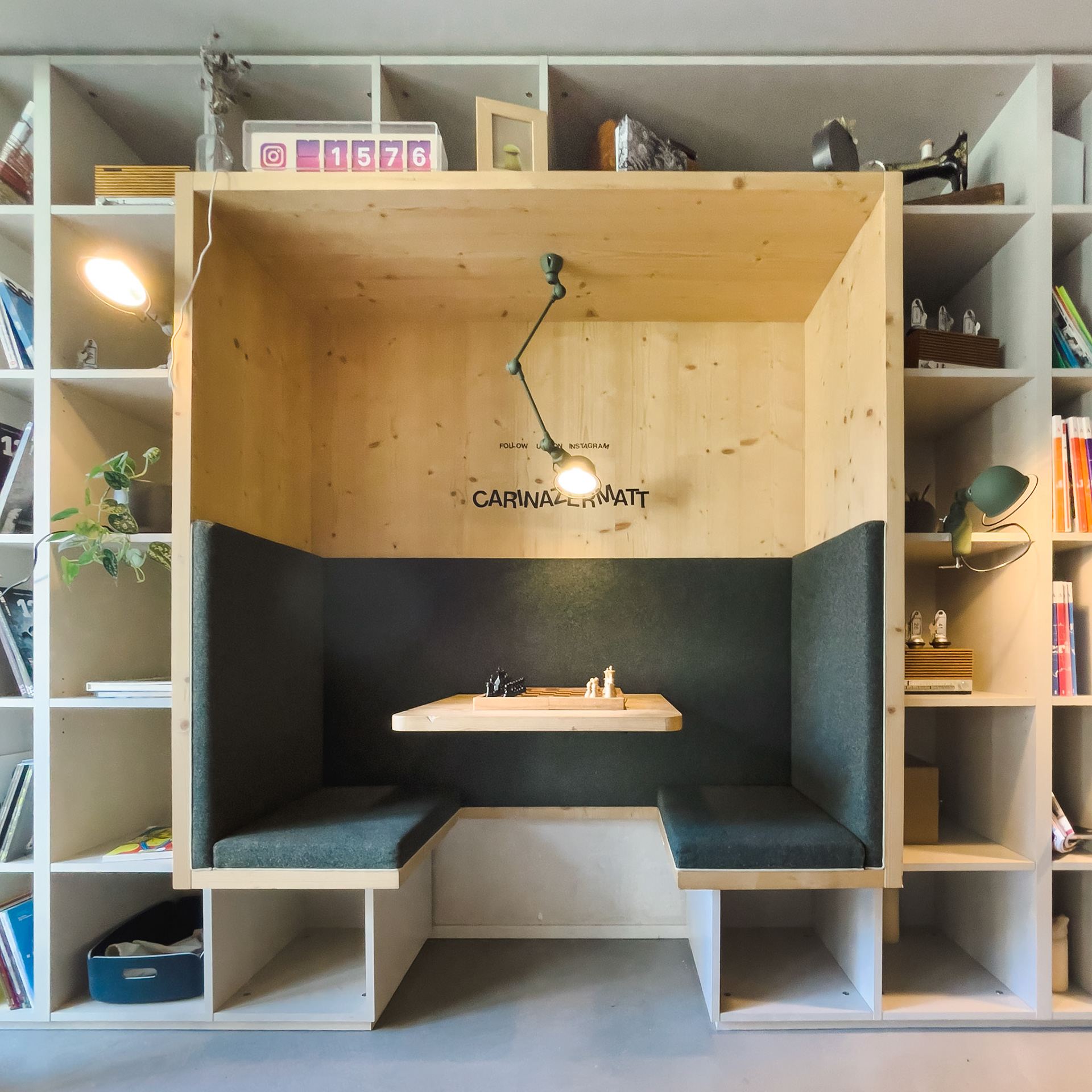 Hotel Carina features different room categories ranging from shared dormitories to the penthouses on the 4th floor. The aptly named Penthouse Matterhorn has 3 bedrooms and features stunning views of the Matterhorn right from the bed !
Its restaurant "La table du Carina" features mostly local ingredients prepared by chef Gaïa Bongiorno, member of the Swiss Slow Food Chefs' Alliance.
The Spa area even manages to make the armoured door of a former nuclear fallout shelter shine !